Regulatory Dialogue with Professor Didier Cossin, Founder & Director, IMD Global Board Center  & Anil Joshi, General Manager, Chief Regulatory Office, SC
Leadership and Value Based Governance
This webcast session reviews the concepts of leadership and governance in efforts to inculcate market integrity and good conduct, and deepen institutional capacity and organisational resilience. It also discusses the drivers behind leadership particularly steward leadership, and practical approaches to embed good governance in an organisation's culture and DNA.
 
Regulatory Dialogue with John D'Agostino, Managing Director, DMS & Chin Wei Min, Executive Director, Innovation, Digital & Strategy, SC
FinTech and Implications on Regulations
While innovation emerging from FinTech possesses enormous transformative power, they also bring new risks that must be understood, anticipated and managed. This webcast session covers some of the latest technological developments in capital markets. It explores the opportunities, scalability and applications of Artificial Intelligence (AI) and Machine Learning (ML) given the rise of large and robust datasets, and the role and accountability between machines and humans in areas such as trading, data analysis and decision making. It also discusses the implications of AI and ML as well as crypto-currency on current regulatory frameworks and the role regulators can play in maintaining fair and orderly markets.
Events
IOSCO Asia Pacific Hub – World Bank Group – Securities Commission Malaysia
Conference on Harnessing Islamic Finance for a Green Future, 14-15 May 2018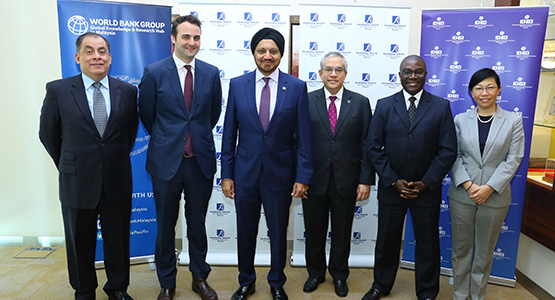 From left to right: Jose De Luna Martinez, Lead Financial Sector Specialist, Finance, Competitiveness and Innovation Global Practice, The World Bank; Richard Record, Lead Economist and Acting Country Manager for Malaysia, The World Bank; Ranjit Ajit Singh, Chairman, Securities Commission Malaysia; Zainal Izlan Zainal Abidin, Deputy Chief Executive, Securities Commission Malaysia; Abayomi A. Alawode, Lead Financial Sector Specialist & Head of Islamic Finance, Finance, Competitiveness and Innovation, The World Bank; and Foo Lee Mei, Chief Regulatory Officer, Securities Commission Malaysia